Home Video Game Software Development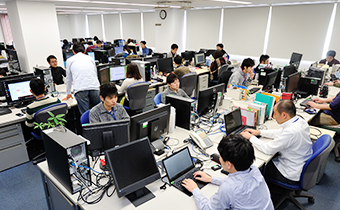 As capabilities of home video game consoles become more advanced, game software development is getting larger in scale and becoming increasingly sophisticated. In addition, greater network connectivity has led to an increase in download sales of game software, and expansion of the social function. Thus, the environment of game industry is currently undergoing immense change.
As a proposal-oriented commissioned developer, based on one of Japan's largest development structures, TOSE offers one-stop development services that meet all requirements in modern game software development spanning from plan proposals to development and operation for all types of home video game console platforms.
Development Environment
Programming / markup languages
C++,C#, etc.
Scripting languages
Python, Lua, etc.
Supported platforms
Nintendo Switch™, PlayStation®5, PlayStation®4, Xbox Series X®,
Xbox Series S®,Steam®, etc.
Development tools
Unreal Engine, Unity, Visual Studio, etc.
Development Record
Although we are not permitted to reveal specific titles due to confidentiality agreements with customers, we have the most extensive track record in the industry with approximately 1,060 home video game software titles.
Home Video Game Software Development
For inquiries on development projects
We will guarantee confidentiality on your inquiry. Personal information such as your name, phone number and email address provided in the inquiry form shall be used solely to respond to the inquiry. Depending on the inquiry, it may take some time for us to get back to you.