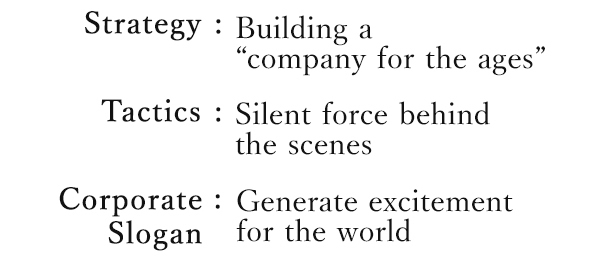 VISION (Basic Policies)
Offer Better Products and Services to Contribute to a Sound, Enriched Society
VALUE (Corporate Principles)
Trust
Honest, Sincere Acts that Build Trust We respect people, cultures and customs; we engage in honest, sincere acts that build trust; we conduct our corporate activities in adherence to laws and accepted ethics.
Effort
Effort/Study that Inspires In order to inspire others through our corporate activities, we work diligently, each and every person striving for greater growth.
Challenge
The Spirit of Challenge and Leadership to Reach toward Ideals and Goals To bring value to society, we work for change that leads to ideals and goals, never fearing failure, and always continuing to meet the challenge.
Coexistence
A Spirit of Coexistence, Never Forgetting to Be Thankful We respect our relationship with our stakeholders, never forgetting to be thankful, as we grow and develop together.
Contribution
Return Profits to Stakeholders; Contribute to Society Through our corporate activities, we return profits to our stakeholders, and we contribute to society through numerous means, including cooperation in the development of local communities.